Forget your 99 cone or Magnum White, gelato is the only frozen dessert worth talking about in Italy
I scream, you scream, we all scream for… gelato!
Before I start babbling on about my unrequited love for gelato, I just want to make one thing clear- ice cream and gelato are two very different things. In comparison to gelato, the ice cream that I grew up with was essentially a block of sweet frozen cream that came in cardboard or plastic tubs and was cut into rectangles and wedged between two slices of wafer by my grandmother after Sunday dinner. It was usually served as an accompaniment to apple crumble and seldom eaten on it's own. If we were lucky we got Viennetta, which was the same idea as above with chocolate shavings mixed through it. As a child, I didn't know any better, and so I lapped it up happily. That was up until the age of fifteen when I came to Italy and tasted gelato for the first time. I didn't understand how this creamy, custardy concoction of ingredients could be categorized into the same group as the white flavourless frozen stuff I had been eating at home. Gelato is velvety and smooth with layered, rich flavours that melt in your mouth and leave you with the sweet aftertaste of the fresh ingredients were used to make it. Ice cream, on the other hand is insipid, bland and icy with flavours that bear more resemblance to E-numbers than the berries or nuts they claim to contain. So if you feel the need to make up for your childhood or indeed part of your adulthood that was devoid of gelato, or have already tried gelato and have since developed a bit of a fixation towards it, then what better excuse than to visit the following gelaterie-
La Carraia- this Florentine institution is located just off Ponte La Carraia, the second bridge after Ponte Vecchio to the east. This gelateria is famous for it's speciality- pistachio and white chocolate. Delizioso– and a must if you visit this place. TIP: La Carraia also has a smaller shop on Via de' Benci not too far from the Uffizi where you can get one scoop of gelato for just a euro.
Rivareno Gelato- this gelateria is located really close to the Duomo on Borgo degli Albizi and is another place to get gelato made with fresh ingredients. It offers some unusual flavours and innovative combinations such as marron glacé, the Leonardo pine nut flavour and the Alice which contains marsala with white chocolate.
Gelateria Dei Neri- this place is located just off Piazza della Signoria on Via de' Neri which is a great street for finding local shops and osterie. This gelateria offers delicious, creamy gelato for very reasonable prices. If you like nutty flavours, try the Gorgonzola e Noci or Ricotta with Pistachio flavour. My favourite flavour is hands down the Buontalenti one, named after the 15th century Florentine artist who is said to have invented icecream.
GROM- this is a chain gelateria which originally began in Turin and now has shops all over the world in places such as New York and Dubai. Don't be put off by the fact it's a chain though- the gelato is made fresh daily and contains high quality ingredients such as Gianduja chocolate and Guatemalan coffee. I really like their speciality 'Crema di Grom' which contains biscotti and Colombian chocolate chips and their bacio flavour.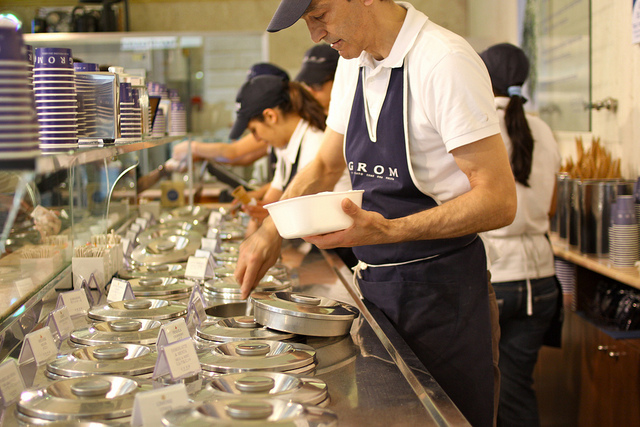 Top tips:
Don't fall into the tourist traps and avoid buying gelato around the main piazzas such as Piazza del Duomo, Piazza della Signoria, etc- if you don't you might end up paying up to €10 for a paltry two scoops in a cone. Avoid gelaterie with mountains of gelato piled up on display- this gelato is exposed to the air for far too long and will have melted into a sticky fructose mess before they've even put it into a cone for you. The quality of these ice creams is generally abysmal too. One of my friends told me of a girl who once went into a gelateria just off Ponte Vecchio (tourist central) and ordered a nutella icecream. She was handed a cone with pure frozen nutella.
Instead, look for gelaterie that use silver canisters covered with lids to store their gelato- this will be stored at optimum temperature and is a sign of a business that's serious about it's produce.
Enjoy gelato responsibly.